Healing Boxes Self-Care Subscription Boxes bring comfort, solace and healing and are ethically produced and made by people with disabilities.
Our first box will be the Comfort and Compassion Classics box, featuring our best-sellers and some new subscription-only goodies.
Healing Boxes Self-Care Subscriptions are tailored to personal needs and provide thoughtful pick-me-up gifts to anyone in need of cheering. When you subscribe, we'll get all the details of your loves/hates and can't-have-thats, then your subscription box will be tailored to you.
All items are ethically sourced and we are experienced in carefully selecting gifts to ensure suitability for those with food intolerances, allergies, post-surgery needs, undergoing chemotherapy/radiation, as needed.
A gift is an opportunity for joy, transformation and connection. Make it count.
There are, of course, other subscription boxes, but none selling healing gifts designed by people who have years of experience living with and working with people with disability, grief, chronic pain, mental health challenges and life crises.
Everything in the boxes is not only ethical, it's beautiful, it's been tried and tested by a team of disabled people and carers.
You can rest assured that your Healing Box will be handpicked, tailored made and filled with goodies that make a difference to your giftee, to you and to the world.
Healing Boxes believes in delightful healing gifts made with diligence, care, and compassion, delivered with love, every month.
– Frequency: The boxes are sent monthly, each contains 3-6 ethically made products.
– Price: These limited-edition boxes are £15.99 per month, UK mainland postage included.
As featured in The Independent 10 Best Self-Care Subscription Boxes
What's in the box?
Ethically produced, useful, comforting products with a balance of goodies, such as body-nourishing organic hand lotion and wonderfully scented, soothing hemp lip balms (strawberries and cream anyone?).
Edible treats like BEAR fruit rolls, Nakd bars and scrummy raw, vegan chocolate.
Comforting gifts include super-soft bamboo socks and meditative healing harp music to nourish and soothe.
Gifts to hold on to, such as our handmade artisan palm stones, meaning that the gift can always stay with you.
Finally, something to bring smiles such as mini-candles to celebrate every day, as well as secret surprises each month to round out the heart-warming self-care supplies.
Get yours now: https://healing-boxes.com/selfcaresubscription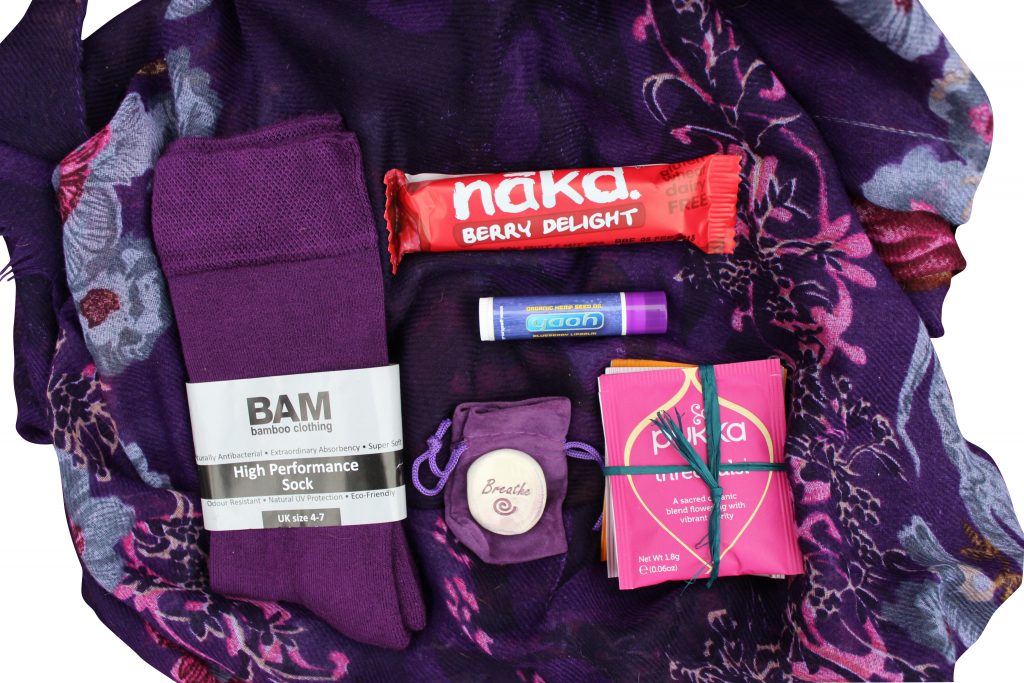 Healing Boxes are an all-in-one solution – a Healing Box can be used as a mood-management tool, to be dipped into as a healing toolkit to lift mood and to contain items used in self-care including mindfulness meditation CDs to cope with pain and a journal for symptom recording.
A Healing Box Subscription invites you to ask: How can we make today brighter? What resources do I have that I can access now?
Healing Boxes are designed to benefit everyone:
– the person who received the box benefits from the tailored items inside.
– the person giving the box also benefits because they are empowered by giving their loved one something useful, a gift that will actually make a difference. So often when a loved one is ill we feel scared, frustrated and helpless. It can be agony to watch a family member/friend suffer and be powerless to help them. Healing Boxes remedies that.
– As every box contains ethically made items each producer is helped when a box is purchased.
– From each box sold money goes towards donating boxes to local charities, including a cancer hospice.
– Every box is ethically produced from recycled, organic, fair trade, handmade biodegradable packaging to vegan, cruelty and synthetic free products which benefit our environment and prevent another plastic gift being thrown into landfill.
So truly, from each sale, everyone benefits at every stage in the process.
A Healing Boxes Self-Care Subscription can bring comfort and joy to your home, your hospital bed, or to your heart, no matter the circumstances.